Evaluation of plasma corticosteroids associated with performance-based activity in bottlenose dolphins (Tursiops truncatus)
Keywords:
aldosterone, bottlenose dolphin, cortisol, dolphin-human swim interactions, metabolism
Abstract
This study was designed to evaluate metabolic-related changes in circulating concentrations of cortisol and aldosterone in bottlenose dolphins before vs. after performance-based physical activities associated with dolphin–human swim interactions. Secondarily, samples collected before the swim interactions were used to evaluate the effect of gender, age and aquarium location on corticosteroid concentrations. A total of 31 male and female dolphins 2–9 yr (juveniles) and 12–35 yr (adults) were evaluated from four aquarium locations in the eastern Caribbean: Anguilla (n=8), Grand Cayman (n=9), St Kitts (n=6), Tortola (n=8). Blood samples were collected between 0900 and 1200 after the first swim interaction of the day. Dual samples were collected: the first within 30 min before and the second within 30 min after the swim interaction, which lasted 30–60 min and involved 3–12 human participants for each dolphin. Plasma concentrations of cortisol and aldosterone were analysed using EIA kits validated for use with dolphins. Cortisol concentrations were not significantly affected by gender, age or location. Correspondingly, there was no effect of gender or age on aldosterone concentrations but there was an effect (P=0.02) of location: concentrations were 28% higher in dolphins from Grand Cayman and Tortola vs. Anguilla and St Kitts. Combined across genders, ages and locations, mean concentrations of cortisol after (1,355 pg/mL) vs. before (1,915 pg/mL) the interactive programmes were lower (P=0.01). While mean concentrations of aldosterone were also lower after (41 pg/mL) vs. before (46 pg/mL) the programme, they were not statistically different (P=0.8). The relative decrease in concentrations was 29% for cortisol and 11% for aldosterone. The novelty of these results continues to support the concept that short-term, performance-based physical activities are not necessarily metabolically challenging in bottlenose dolphins conditioned for dolphin–human swim interactions, but more comprehensive studies are required for clarification.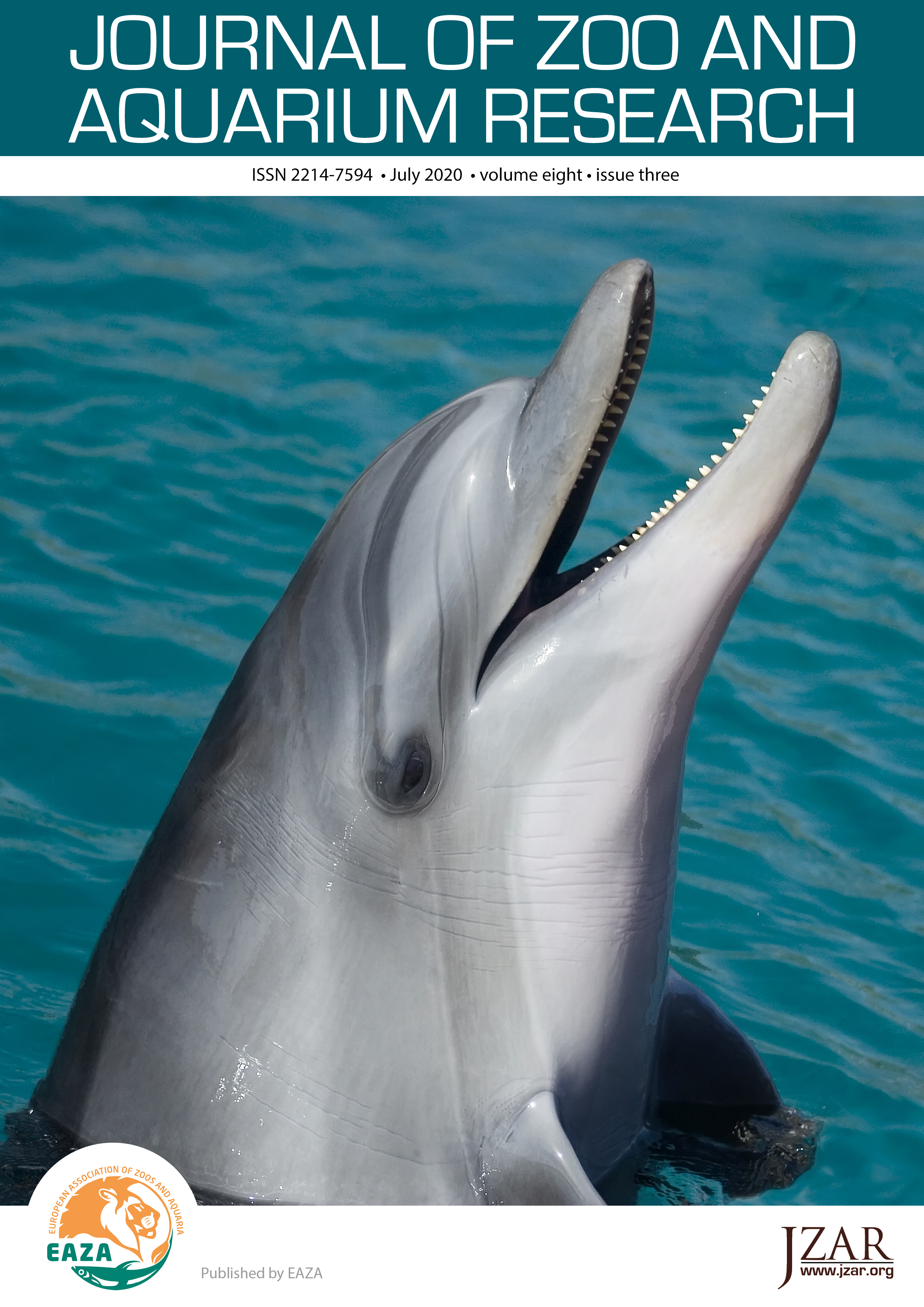 Authors who publish with this journal agree to the following terms:
Authors retain copyright and grant the journal right of first publication with the work simultaneously licensed under a Creative Commons Attribution License that allows others to share the work with an acknowledgement of the work's authorship and initial publication in this journal.
Authors are able to enter into separate, additional contractual arrangements for the non-exclusive distribution of the journal's published version of the work (e.g., post it to an institutional repository or publish it in a book), with an acknowledgement of its initial publication in this journal.
Authors are permitted and encouraged to post their work online (e.g., in institutional repositories or on their website) prior to and during the submission process, as it can lead to productive exchanges, as well as earlier and greater citation of published work (See The Effect of Open Access).