Cortisol secretion in an African elephant Loxodonta africana calf including evidence for a foetal surge
Keywords:
animal well-being, birth, foetal cortisol, postnatal development, serum cortisol, urinary cortisol
Abstract
Cortisol is a useful tool for monitoring the well-being of elephants. In addition to its role in the stress response, this hormone is involved in regulating many natural metabolic reactions, including those associated with birth. However, very little is known about the production of cortisol from birth through the first few months of an elephant's life. Cortisol secretion in mammalian foetuses participates in preparation for extrauterine life. Precocial mammals, which need to be able to move and remain with the dam and the herd have a strong surge in foetal cortisol shortly before parturition. Elephants are precocial, but a foetal cortisol surge has not been previously documented in either species. Within 10 min of the birth of a male African elephant Loxodonta africana calf at the Louisville Zoo, a serum sample from the calf revealed a surge in cortisol ten-fold higher than subsequent samples from the calf and higher than samples from the dam. A urine sample from the calf within two hours of birth had a similarly high concentration of cortisol that was also well above that of samples from the days that followed. This appears to be the first direct evidence of the foetal cortisol surge in elephants. This study followed the serum and urinary cortisol of the calf for 18 months. Cortisol was also monitored in the dam and an adult female Asian elephant Elephas maximus herd-mate from one week prior to birth until 18 months after birth. This study documents natural changes in cortisol associated with birth and lactation.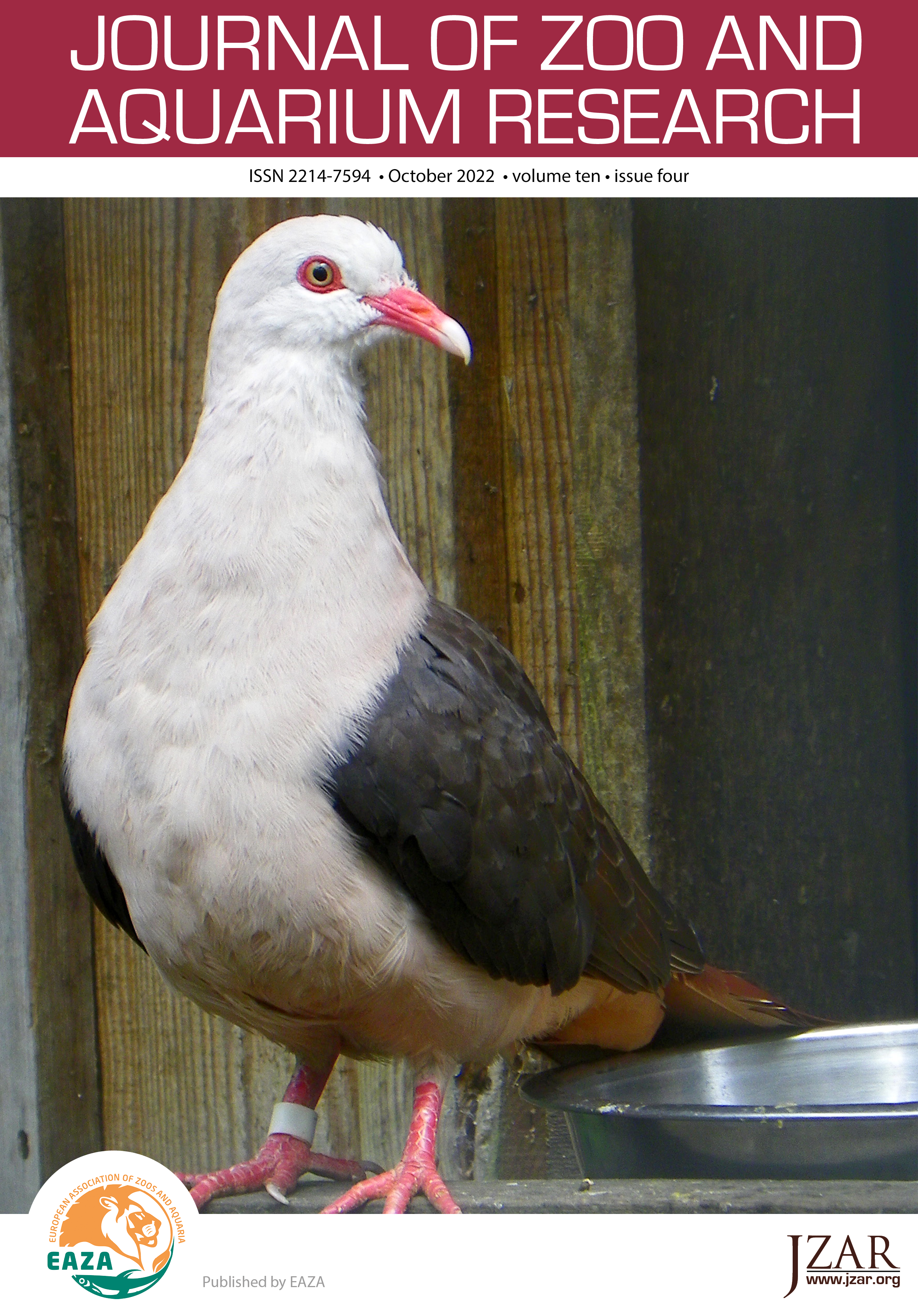 Downloads
How to Cite
White, B. C., Burns-Cusato, M., Taylor, S., Gyimesi, Z., Burton II, S., Cathey, C. ., & Riley, A. (2022). Cortisol secretion in an African elephant Loxodonta africana calf including evidence for a foetal surge. Journal of Zoo and Aquarium Research, 10(4), 215–220. https://doi.org/10.19227/jzar.v10i4.676
Section
Evidence Based Practice
License
JZAR fulfils the DOAJ definition of open access and provides free and open access to the full text of all content without delay under a Creative Commons licence. The copyright holder of JZAR publications grants usage rights to third parties, allowing for immediate free access to the work and permitting any user to read, download, copy, distribute, print, search, or link to the full texts of articles.