Cetacean Erysipelothrix rhusiopathae clinical disease incidence rate is reduced following water treatment changes in a closed artificial sea water system
Keywords:
artificial seawater, cetaceans, Erysipelothrix rhusiopathae, vaccine
Abstract
Cetaceans have been housed at John G. Shedd Aquarium, Chicago, Illinois, in an approximately 3 million-gallon, closed, recirculating, artificial saltwater system since March 1991. From then through September 2008 there were five clinical cases of disease caused by Erysipelothrix rhusiopathae with a case fatality rate of 40%. The incidence rate for that period was 5/173.9 (2.88%) animal-years. In September 2008, the system was entirely drained, and recommissioned in April 2009. From 2009 through 2019, there was one case of erysipelothricosis, which was not fatal: an incidence rate of 1/118.1 (0.85%) animal-years for that period. Thus, cetaceans housed in this system after the management changes were 3.39 times less likely to contract clinical disease due to E. rhusiopathae infection compared with those prior to the change. Simultaneously with the maintenance of the system and habitat, a change was made to system water sourcing and treatment. Pre-maintenance source water was entirely municipal water. Post-maintenance, source water includes approximately 30,000 gallons of water per week moved from systems housing other animals including teleost and elasmobranch fishes. The salt mixes added to the municipal water also changed and post-maintenance water temperature cycling was initiated. Diversity of the microbial communities of the water increased following the change and may in part explain the reduced erysipelothricosis incidence rate.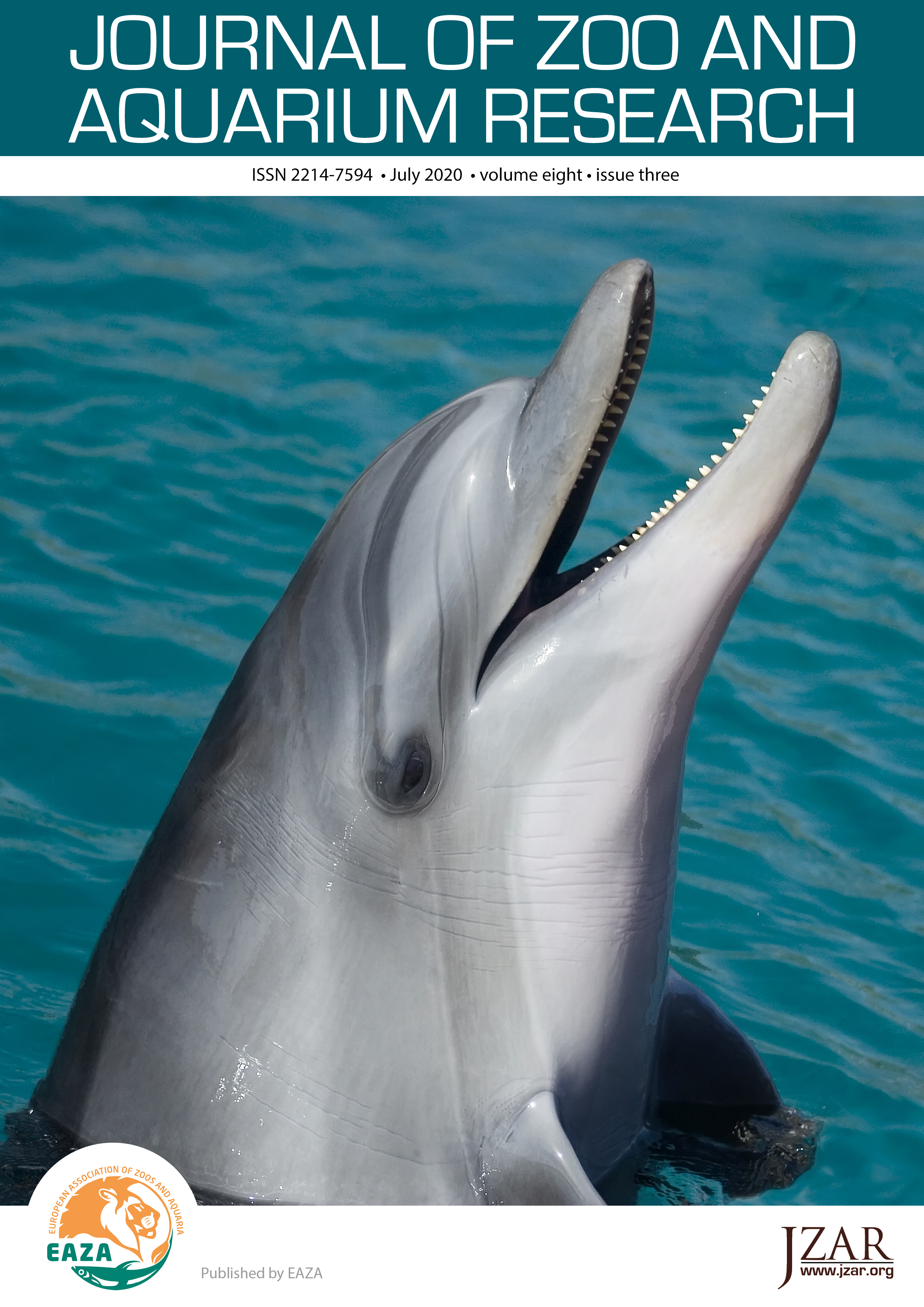 Section
Evidence Based Practice
Authors who publish with this journal agree to the following terms:
Authors retain copyright and grant the journal right of first publication with the work simultaneously licensed under a Creative Commons Attribution License that allows others to share the work with an acknowledgement of the work's authorship and initial publication in this journal.
Authors are able to enter into separate, additional contractual arrangements for the non-exclusive distribution of the journal's published version of the work (e.g., post it to an institutional repository or publish it in a book), with an acknowledgement of its initial publication in this journal.
Authors are permitted and encouraged to post their work online (e.g., in institutional repositories or on their website) prior to and during the submission process, as it can lead to productive exchanges, as well as earlier and greater citation of published work (See The Effect of Open Access).