Virtual Reality in the Zoo: A Qualitative Evaluation of a Stereoscopic Virtual Reality Video Encounter with Little Penguins (Eudyptula minor)
Keywords:
Virtual Reality, Stereoscopic Video, Digital Technologies, Immersion, Presence, Conservation Education
Abstract
Encounters between animals and humans in zoos and aquariums are being increasingly enhanced, mediated and extended using digital technologies. This article presents the results of research into the design, use and experience of stereoscopic (3D) 180o film viewed via a Virtual Reality (VR) headset at the zoo. This technology has recently emerged as an affordable consumer device with increasing uptake in education and museums. Drawing on research methodologies from the field of human-computer interaction, this project followed a 'research-through-design' approach, which sought to discover more about the potential of VR technologies in the zoo generally, through the process of designing a particular installation. This paper reports on the results of a qualitative interview-based study into zoo visitor experiences of using a specific VR installation, a 5-min video encounter that combined footage shot inside the little penguin Eudyptula minor enclosure during feeding, and behind-the-scenes preparation of food, with narration by the zookeeper in each scene. It was found that visitors had positive attitudes towards the use of VR video in the zoo as an addition to the experience of seeing live animals. The paper further discusses the specific opportunities for VR video via the key themes that emerged in the qualitative evaluation: cognitive immersion, emotional immersion, physical presence and social presence. This paper therefore supports further investigation of VR video as a form of visitor experience to be deployed alongside keeper talks, animal presentations and behind-the-scenes experiences, with clear opportunities for positive visitor experience, conservation caring, and ensuring the welfare of animals in captivity in zoos.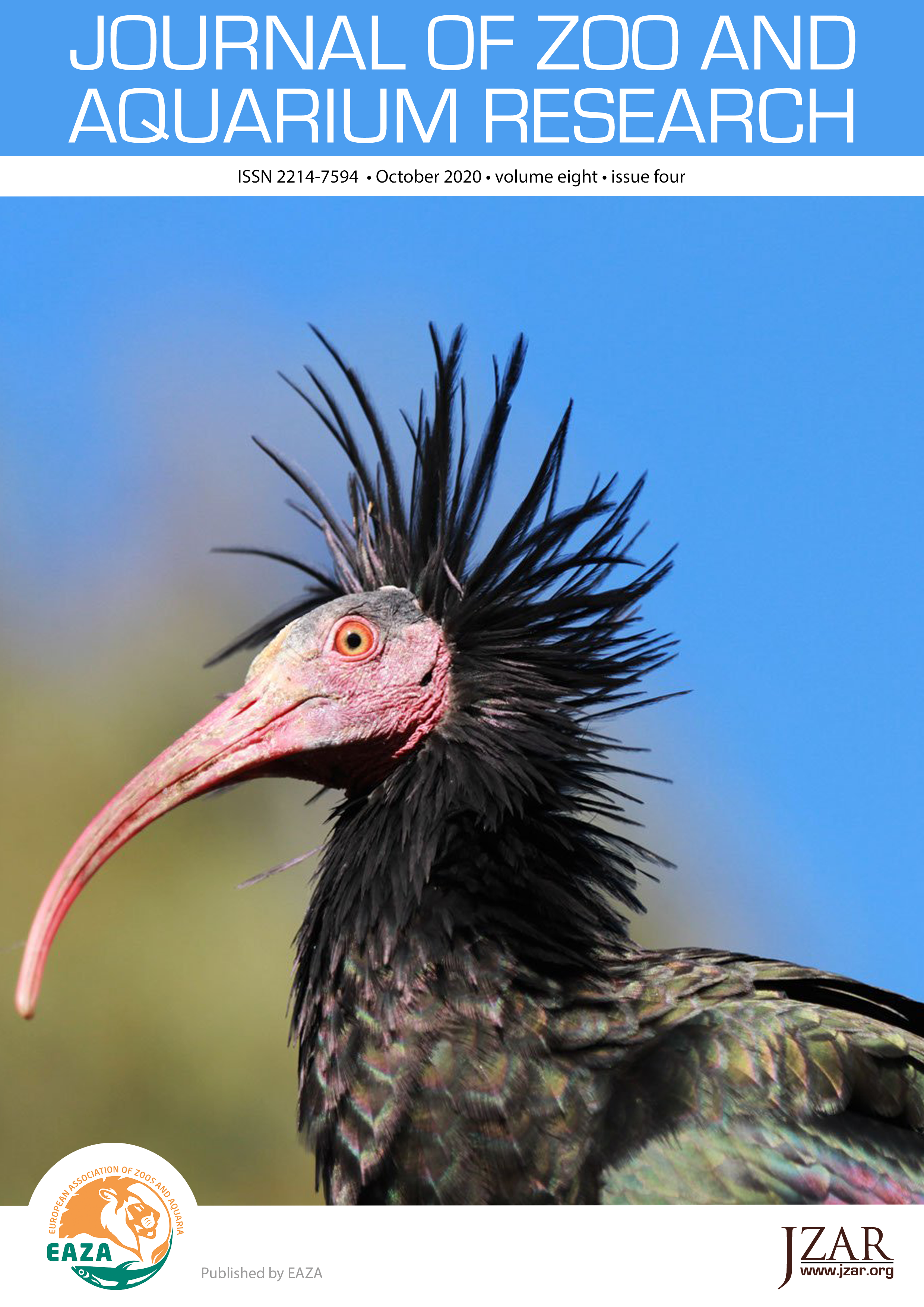 Downloads
How to Cite
Carter, M., Webber, S., Rawson, S., Smith, W., Purdam, J., & McLeod, E. (2020). Virtual Reality in the Zoo: A Qualitative Evaluation of a Stereoscopic Virtual Reality Video Encounter with Little Penguins (Eudyptula minor). Journal of Zoo and Aquarium Research, 8(4), 239–245. https://doi.org/10.19227/jzar.v8i4.500
License
Authors who publish with this journal agree to the following terms:
Authors retain copyright and grant the journal right of first publication with the work simultaneously licensed under a Creative Commons Attribution License that allows others to share the work with an acknowledgement of the work's authorship and initial publication in this journal.
Authors are able to enter into separate, additional contractual arrangements for the non-exclusive distribution of the journal's published version of the work (e.g., post it to an institutional repository or publish it in a book), with an acknowledgement of its initial publication in this journal.
Authors are permitted and encouraged to post their work online (e.g., in institutional repositories or on their website) prior to and during the submission process, as it can lead to productive exchanges, as well as earlier and greater citation of published work (See The Effect of Open Access).