Evaluating an in-school zoo education programme: an analysis of attitudes and learning
Evaluation of zoo education
Keywords:
Zoo, Education, Conservation, Outreach, School, Learning
Abstract
In 2020 the Convention on Biological Diversity will deliver the post-2020 global biodiversity framework.
The promotion of conservation and biodiversity knowledge will form at least one of the targets set
out in this framework. According to the World Association of Zoos and Aquariums (WAZA) zoos and
aquariums receive around 700 million annual visits, making them well placed to contribute towards
these targets. The scope of the field of zoo and aquarium education research has greatly increased
over recent years demonstrating the educational value of visits. This study evaluated the impact of
an in-school repeat-engagement zoo education programme provided by the Safari Rangers of Chester
Zoo, UK. A pre- and post-programme survey design was used to measure conservation understanding,
knowledge of pro-conservation behaviours and conservation attitudes. In total, 445 students from seven
participating schools were surveyed. The results show an increase in both conservation understanding
and in knowledge of pro-conservation behaviour between the pre- and post-programme surveys.
Participating students showed an aggregate increase of 60.5% in their conservation understanding, and
a 24% increase in their knowledge of pro-conservation behaviours. Those surveyed also demonstrated
a positive change in attitude towards conservation self-efficacy. This study demonstrates that repeat-
engagement in-school zoo-education programmes can successfully deliver desired learning outcomes,
adding to the body of evidence that demonstrates the valuable role that zoos can play in raising the
level of conservation knowledge amongst school-aged children.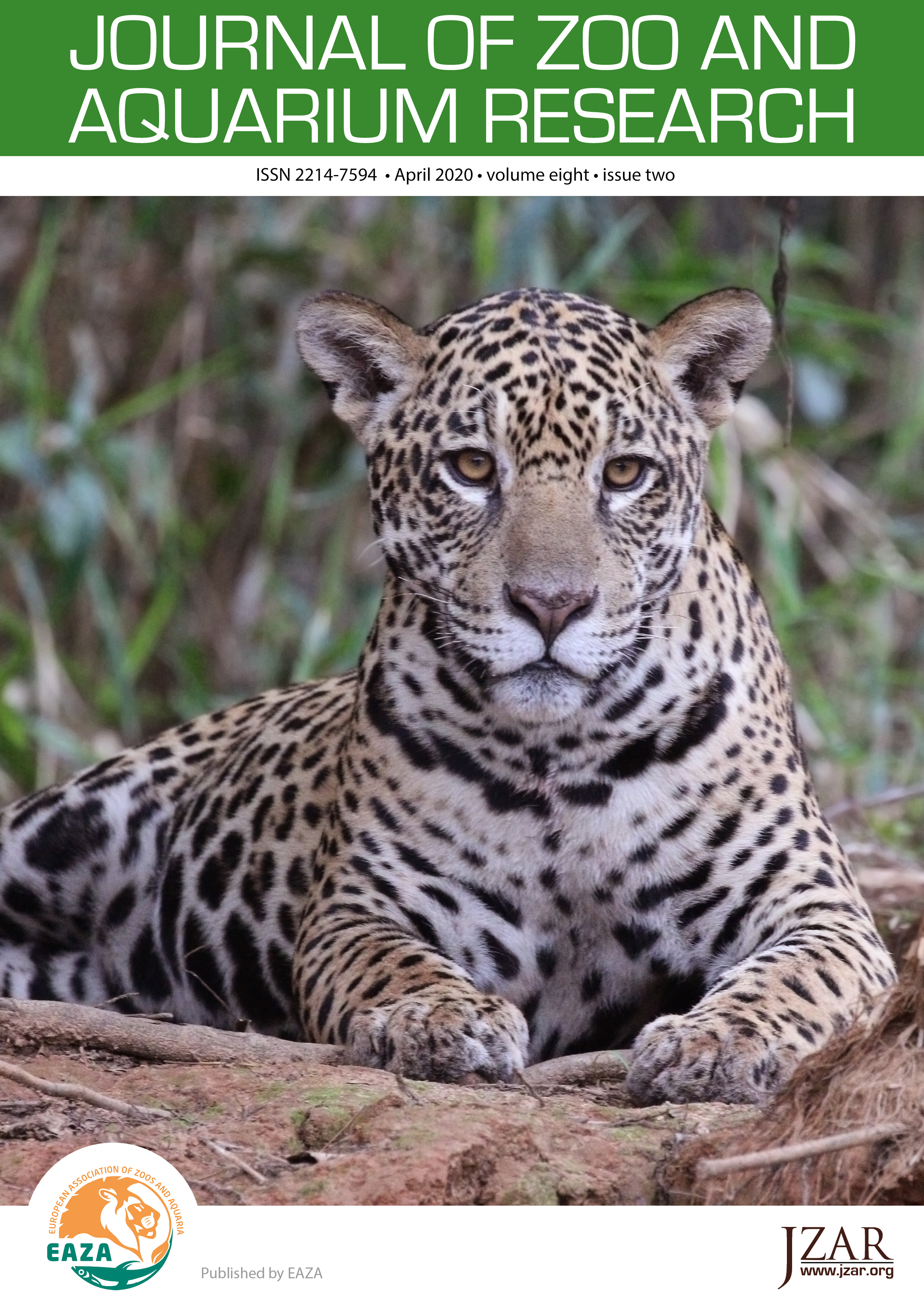 Downloads
How to Cite
Counsell, G., Moon, A., Littlehales, C., Brooks, H., Bridges, E., & Moss, A. (2020). Evaluating an in-school zoo education programme: an analysis of attitudes and learning: Evaluation of zoo education. Journal of Zoo and Aquarium Research, 8(2), 99–106. https://doi.org/10.19227/jzar.v8i2.439
License