Asymmetric reproductive aging in cheetah (Acinonyx jubatus) females in European zoos
Keywords:
cheetah, captivity, reproduction, stress, suppression
Abstract
For conservation breeding and management, such as re-introduction programs, reproductively healthy animals are essential. Low reproductive performance in captive animals is therefore of great concern in species which are judged to be vulnerable or endangered in the wild. Hence, it is important to understand the mechanisms that lead to low reproductive performance in captivity. Here we use a long-term study on captive cheetah females as an example to test predictions derived from three hypotheses –, the captive 'stress', captive reproductive suppression and asymmetric reproductive aging hypotheses. Parous and nulliparous cheetah females did not differ in their faecal glucocorticoid concentrations, suggesting that allostatic load ('stress') did not affect reproductive performance. Consistent with the captive reproduction suppression hypothesis, females permanently kept together with other adult females (or males) did not reproduce until they were individually introduced to a single male when in estrus. Instead, reproductive performance of twelve cheetah females kept in zoological gardens and followed throughout their lifetime was determined by their age and reproductive history, as predicted by the asymmetric reproductive aging hypothesis. Asymmetric reproductive aging arises when first breeding attempts and first pregnancies of females are substantially delayed, thereby ensuring frequent cycle fluctuations of oestrogen concentrations which subsequently result in reproductive tract pathologies. Our results suggest that conservation breeding facilities should breed cheetah females as early as possible, keep them separate from adult males or other females and introduce them to single males for breeding purposes when in estrus only.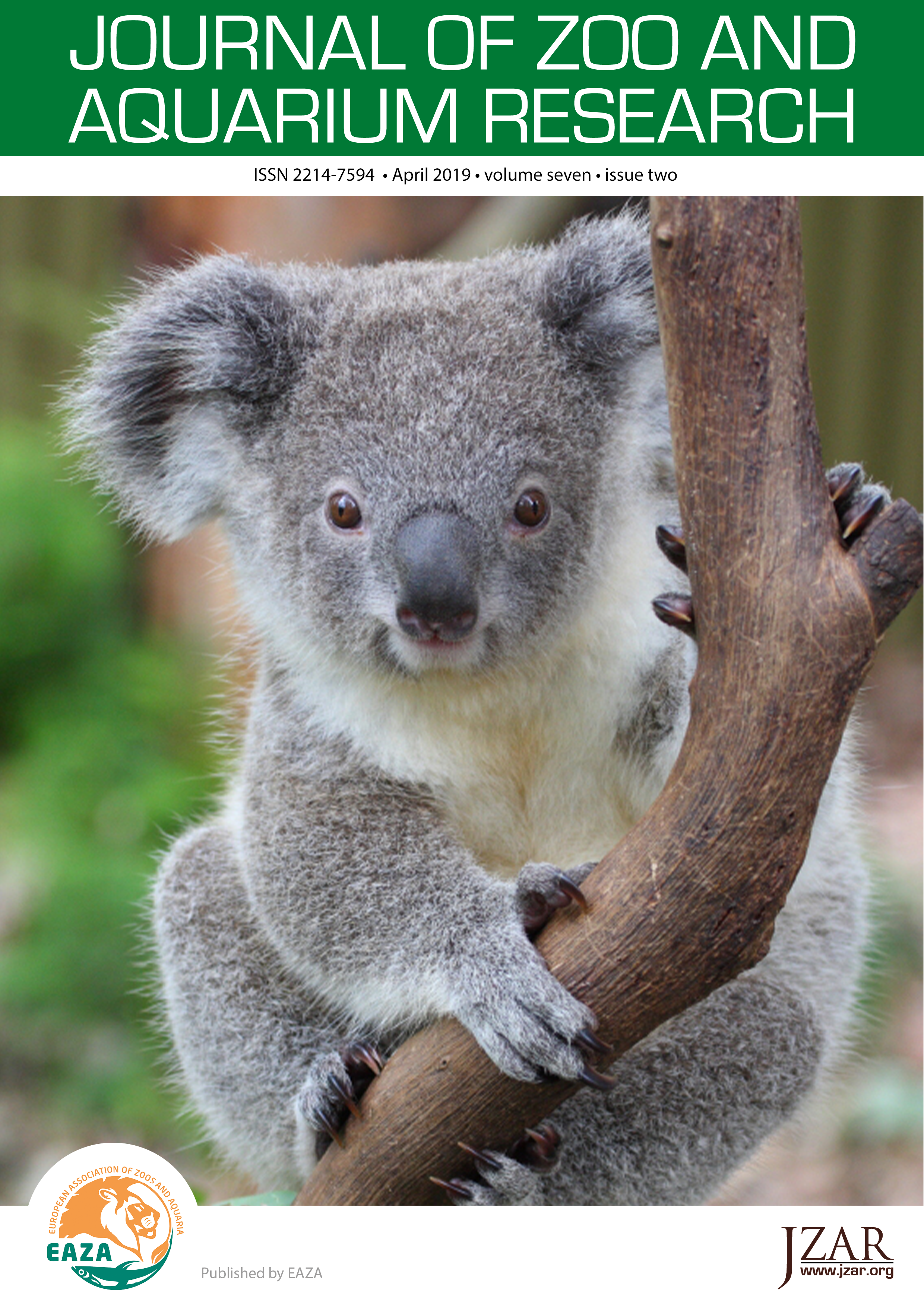 Downloads
How to Cite
Ludwig, C., Dehnhard, M., Pribbenow, S., Silinski-Mehr, S., Hofer, H., & Wachter, B. (2019). Asymmetric reproductive aging in cheetah (Acinonyx jubatus) females in European zoos. Journal of Zoo and Aquarium Research, 7(2), 87–93. https://doi.org/10.19227/jzar.v7i2.382
License
JZAR fulfils the DOAJ definition of open access and provides free and open access to the full text of all content without delay under a Creative Commons licence. The copyright holder of JZAR publications grants usage rights to third parties, allowing for immediate free access to the work and permitting any user to read, download, copy, distribute, print, search, or link to the full texts of articles.