The use of a gonadotropin releasing hormone antagonist in captive sand tiger sharks, Carcharias taurus, and the serum levels of the antagonist and reproductive steroid hormones
Abstract
Sand tiger sharks, Carcharias taurus, are commonly maintained in large public aquaria throughout the world, but limited success has been achieved in captive reproduction. Successful captive reproduction in this species has only been documented in four institutions to date. In this investigation, steroid hormone assays in male sand tiger sharks were compared before and after dosing with a GnRH antagonist (Antide; Bachem, Inc., Torrance, CA). Three male sand tiger sharks were sampled serially for 12 months. All three sharks received two microsphere-encapsulated doses of Antide (0.185 and 0.225 mg·kg-1), 69 days apart. Serum samples were assayed for concentrations of the steroid hormones 17?-oestradiol, progesterone, testosterone, 5?-dihydrotestosterone, corticosterone, and the GnRH antagonist Antide via radioimmunoassay. The results obtained demonstrate cyclical patterns in the steroid profiles, and that mean Antide level peaked 33 and 27 days following each injection, respectively. Circulating Antide was detectable eight months after the final treatment. Contrary to the anticipated effect, however, concentrations of all five steroids increased immediately following initial administration of the antagonist. Although the lack of control subjects precludes solid conclusions regarding the effects of the antagonist upon steroid hormone levels, notable declines in the levels were observed concurrent with peak circulating Antide levels. Further, although we cannot attribute it to the antagonist, mean androgen levels declined more sharply following antagonist administration than those observed in a previous investigation in this group of male sharks. This is the first documented use of a GnRH antagonist in any chondrichthyan. Further research, including control subjects, is suggested to investigate the effects of the antagonist upon steroid hormones, reproductive cycles and behaviour.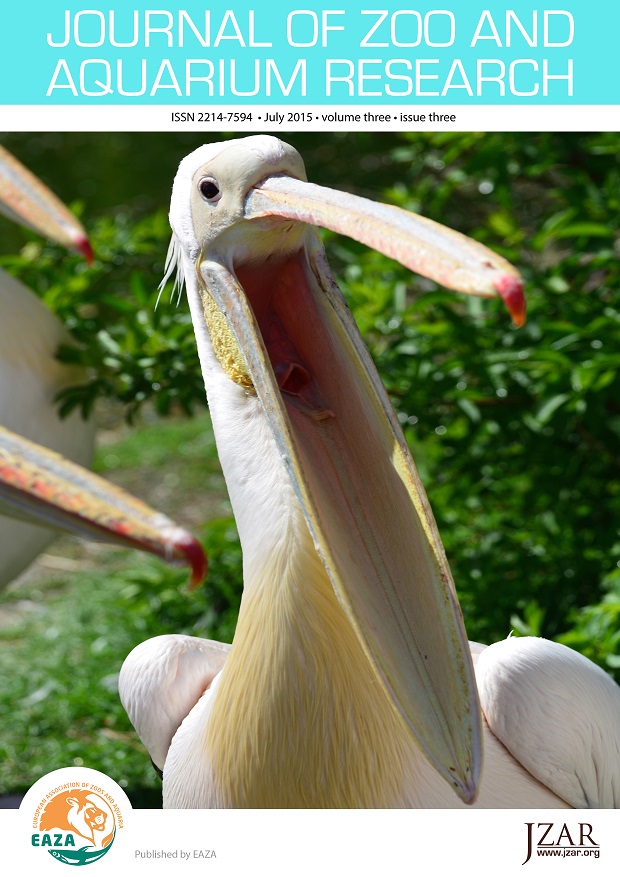 Downloads
How to Cite
Henningsen, A. D., Whitaker, B. R., Kight, K. E., Hess, D. l., Hadfield, C., & Zohar, Y. (2015). The use of a gonadotropin releasing hormone antagonist in captive sand tiger sharks, Carcharias taurus, and the serum levels of the antagonist and reproductive steroid hormones. Journal of Zoo and Aquarium Research, 3(3), 107–115. https://doi.org/10.19227/jzar.v3i3.120
License
JZAR fulfils the DOAJ definition of open access and provides free and open access to the full text of all content without delay under a Creative Commons licence. The copyright holder of JZAR publications grants usage rights to third parties, allowing for immediate free access to the work and permitting any user to read, download, copy, distribute, print, search, or link to the full texts of articles.