Feeding practices for captive greater kudus (Tragelaphus strepsiceros) in UK collections as compared to diets of free-ranging specimens
Abstract
Diet-related disorders occur frequently in captive browsing ruminants. To assess current feeding practices, diets of 15 captive greater kudus (Tragelaphus strepsiceros) from three zoological collections were compared to that of free-ranging conspecifics and current feeding recommendations. Dry matter intake (DMI) varied considerably in captivity from 49.2 to 75.7 g dry matter kg BM-0.75 d-1. Roughage intake determined DMI; with a low DMI associated with low body condition scores (BCS). Compared to free-ranging kudus with diets of 11.1-14.2% crude protein (CP), only one collection had a diet with a similar CP concentration (13.0%), the other collections providing diets with CP of 15.1-16.8%. Acid detergent fibre (ADF) in the zoo diets was comparable to that in the diet of free-ranging animals (24.7-29.4%), but the latter consumed diets with less cellulose and more lignin. In addition, faecal consistency scores (FS) were positively correlated with dietary CP and faecal nitrogen, and negatively with faecal ADF, indicating that higher proportions of highly digestible feeds caused softer faeces. In total, only four of fifteen captive individuals had normal BCS 3.0 and FS 1.0. These results suggest that diets fed to captive browsing ruminants are too digestible, even in terms of fibre composition. Recommendations for higher CP may be unnecessary. Providing browse and high quality lucerne hay may increase the proportion of roughages in the diet and overall DMI to meet requirements and recommendations. To balance the diet and reduce digestibility, the pellets should have lower levels of CP, starch and sugar, and a higher level of fibre, particularly lignin.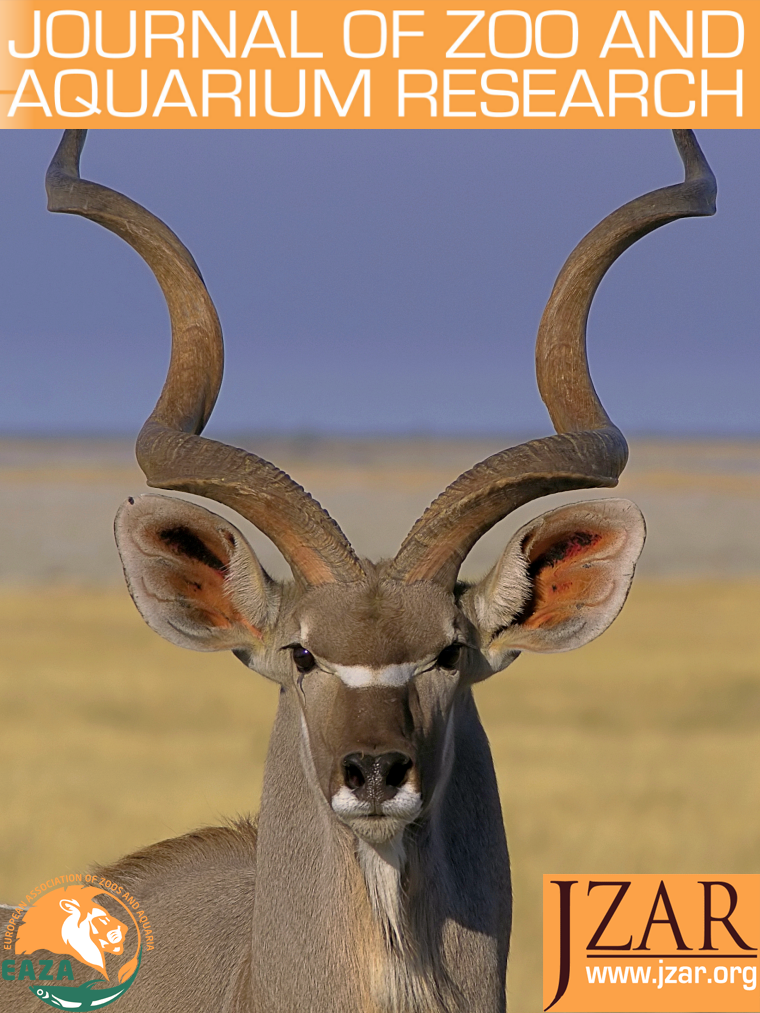 Downloads
How to Cite
Taylor, L. A., Schwitzer, C., Owen-Smith, N., Kreuzer, M., & Clauss, M. (2013). Feeding practices for captive greater kudus (Tragelaphus strepsiceros) in UK collections as compared to diets of free-ranging specimens. Journal of Zoo and Aquarium Research, 1(1), 7–13. https://doi.org/10.19227/jzar.v1i1.18
License
JZAR fulfils the DOAJ definition of open access and provides free and open access to the full text of all content without delay under a Creative Commons licence. The copyright holder of JZAR publications grants usage rights to third parties, allowing for immediate free access to the work and permitting any user to read, download, copy, distribute, print, search, or link to the full texts of articles.