Activity budget and behaviour of giant otters Pteronura brasiliensis at Parken Zoo, Eskilstuna, Sweden
Keywords:
activity budget, behaviour, feeding enrichment, Pteronura brasiliensis, welfare, zoo
Abstract
Modern zoos must ensure the welfare and conservation of their captive animals. For this, it is recommended to provide cognitive stimuli ('enrichment'), good habitat management and adequate nutrition amongst other things. Assessment of animal welfare should include behavioural observation. One frequently used approach compares the activity budget of zoo animals with their wild conspecifics, carefully interpreting resulting differences. Here, this method is used for giant otters Pteronura brasiliensis on a feeding regime with three fixed feeding times during the keeper's working day, and ice blocks containing fish suspended above the pool, thawing over time and thus releasing fish well into the night. This time-delayed food dispensing was expected to make the subjects spend a large proportion of time foraging. Nevertheless, results show a lower feeding proportion than reported in the literature for this species in the wild (27% versus 64%), likely related to the fact that zoo animals did not have to hunt live prey. The captive otters also spent less time scent-marking (1% versus 9%), possibly due to the absence of other conspecific groups in their vicinity. By contrast, there was a higher proportion of resting (34% versus 21%) and affiliative behaviours (14% versus 1%), suggesting that shifts in the activity budget between natural habitats and zoos need not always be interpreted as indicators of reduced welfare. 'Calling family members to food', reported in the wild, was observed repeatedly when one family member was awake and the rest were asleep at a time that fish fell from the thawing block into the pool. Extending food distribution over time, particularly into the night, might develop behaviours other than increased feeding activity as indicators of welfare in captive giant otters. Further investigations with delayed feeding methods for this and other species are needed.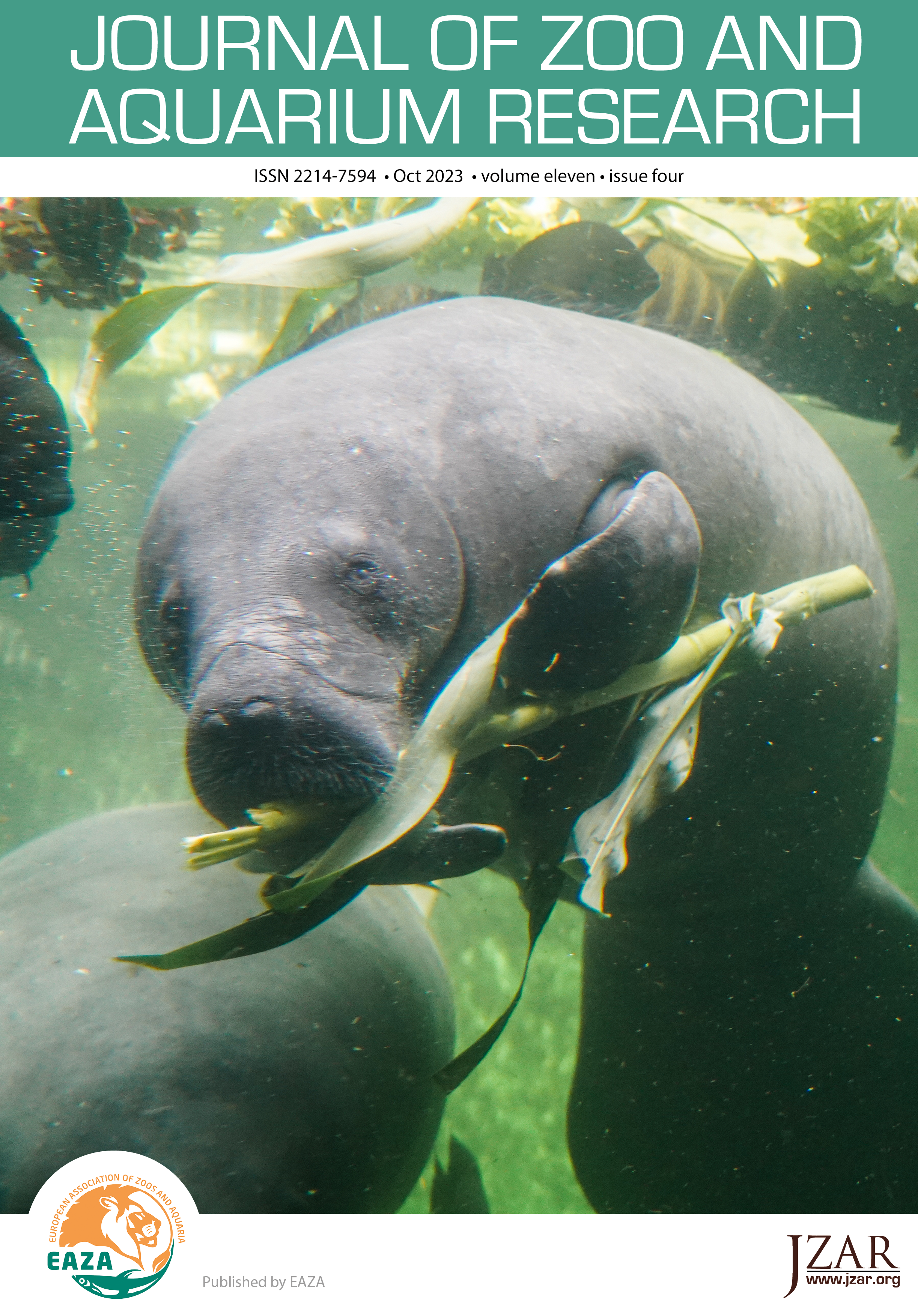 Downloads
How to Cite
Friedmann, M., Burkevica, A., Lagerström, L., Gustafsson, J., Johnsson, J., Lundgren, P., & Clauss, M. (2023). Activity budget and behaviour of giant otters Pteronura brasiliensis at Parken Zoo, Eskilstuna, Sweden. Journal of Zoo and Aquarium Research, 11(4), 356–365. https://doi.org/10.19227/jzar.v11i4.770
License
JZAR fulfils the DOAJ definition of open access and provides free and open access to the full text of all content without delay under a Creative Commons licence. The copyright holder of JZAR publications grants usage rights to third parties, allowing for immediate free access to the work and permitting any user to read, download, copy, distribute, print, search, or link to the full texts of articles.