An Investigation into keeper opinions of great ape diets and abnormal behaviour
Keywords:
Great ape, cultivated fruit-free, diet, keeper opinion, food presentation, abnormal behaviour.
Abstract
Zoos are evidencing a shift in great ape diets to cultivated fruit-free diets with more wild-type nutritional compositions (lower sugar, higher fibre). Traditional feeding methods continue to be scrutinised however free-foraging remains rare in captivity. As a result, this study aimed to ascertain great ape keeper knowledge and opinions on the removal of cultivated fruit from great ape diets, investigate feeding regimes currently in use and understand the prevalence and frequency of abnormal behaviour and health conditions within captive great apes that may be related to diet. Twenty great ape keepers from 18 collections in the British Isles selected to participate by completing a standardised digital questionnaire. Both quantitative and qualitative data was extracted and where appropriate were analysed using non-parametric tests. The results indicated that two thirds of collections feed cultivated fruit but half intend to go cultivated fruit–free in future. All great apes were fed multiple times a day using multiple feeding strategies. Significantly more collections than expects used eight feeding strategies, very few collections used less than seven feeding strategies (P = 0.001). Most keepers (whether their apes were on a cultivated fruit-free diet or were fed cultivated fruit) believed that diet was not comparable to the wild diet. However, all keepers irrespective of diet type agreed or agreed strongly that their great apes were in good health and were motivated by their diet. Fifteen abnormal behaviours were noted by keepers; regurgitation and reingestion, regurgitation, and coprophagy were reported significantly more than expected (P0.045). Keepers report abnormal behaviours are significantly more prevalent in gorillas given the average performance across all three species (P<0.001) while chimpanzees show a tendency to perform stereotypy more frequently. Compared to collections fed cultivated fruit, cultivated fruit-free collections scored frequency of spinning (P0.009) and self-patting (P = 0.001) significantly higher. All keepers agreed or strongly agreed that their apes were in good health. No dietary parameters were reliably significant predictors of abnormal behaviour (prevalence of frequency) or number of health condition. Further research into the nutritional predictors of food-involving abnormal behaviours is required across collections that feed fruit free and fruit containing diets.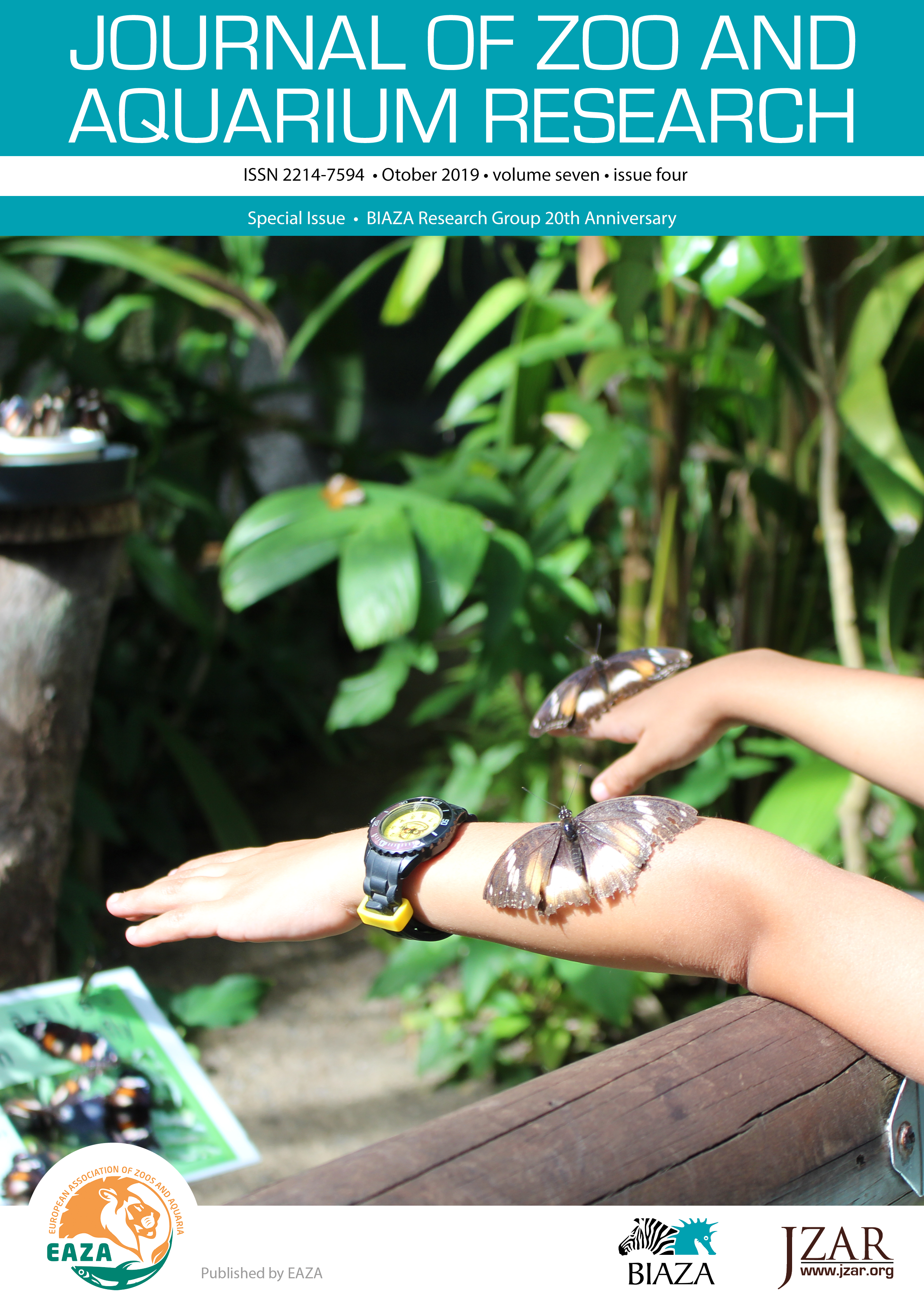 Downloads
How to Cite
Hammerton, R., Hunt, K. A., & Riley, L. M. (2019). An Investigation into keeper opinions of great ape diets and abnormal behaviour. Journal of Zoo and Aquarium Research, 7(4), 170–178. https://doi.org/10.19227/jzar.v7i4.415
License
JZAR fulfils the DOAJ definition of open access and provides free and open access to the full text of all content without delay under a Creative Commons licence. The copyright holder of JZAR publications grants usage rights to third parties, allowing for immediate free access to the work and permitting any user to read, download, copy, distribute, print, search, or link to the full texts of articles.