Koalas (Phascolarctos cinereus) utilise volatile compounds to choose preferred Eucalyptus leaves
Keywords:
Koala, Eucalypt, Feeding preference, Sniffing, Volatile compound
Abstract
The koala (Phascolarctos cinereus) is an arboreal folivore that specializes on the leaves of Eucalyptus sp. Although koalas have a strong preference for this diet, the cues used to discriminate between preferred and unpreferred leaves are still unclear. This study investigated the smelling behaviour of koalas under the food selection situation and if volatile compounds related to koalas' food selection. In the first study, the subjects were 10 captive koalas housed in Higashiyama Zoo and Kanazawa Zoo in Japan. We observed the subjects' responses to the leaves from the public area. The subjects sniffed more before eating the leaves, suggesting that volatile compounds may be an important cue when choosing preferred leaves. In the second study, the subjects were four koalas housed in Higashiyama. During the study period, six Eucalyptus species were simultaneously provided to the koalas. The duration of the koalas' feeding behaviour and the Eucalyptus species on which they fed were recorded. We also investigated the volatile compounds contained in the leaves using gas chromatography and gas chromatography-mass spectrometry. The subsequent multiple regression analysis showed that the amount of certain volatile compounds, the majority of which were classified as a group of secondary metabolites, terpenes, was related to the foraging duration on leaves, but was expressed differently for each subject. These results suggested that koalas smell the specific volatile compounds when determining their preference from the available choices. Based on the amount of specific volatile compounds, the koalas' preferences for Eucalyptus leaves can be predicted.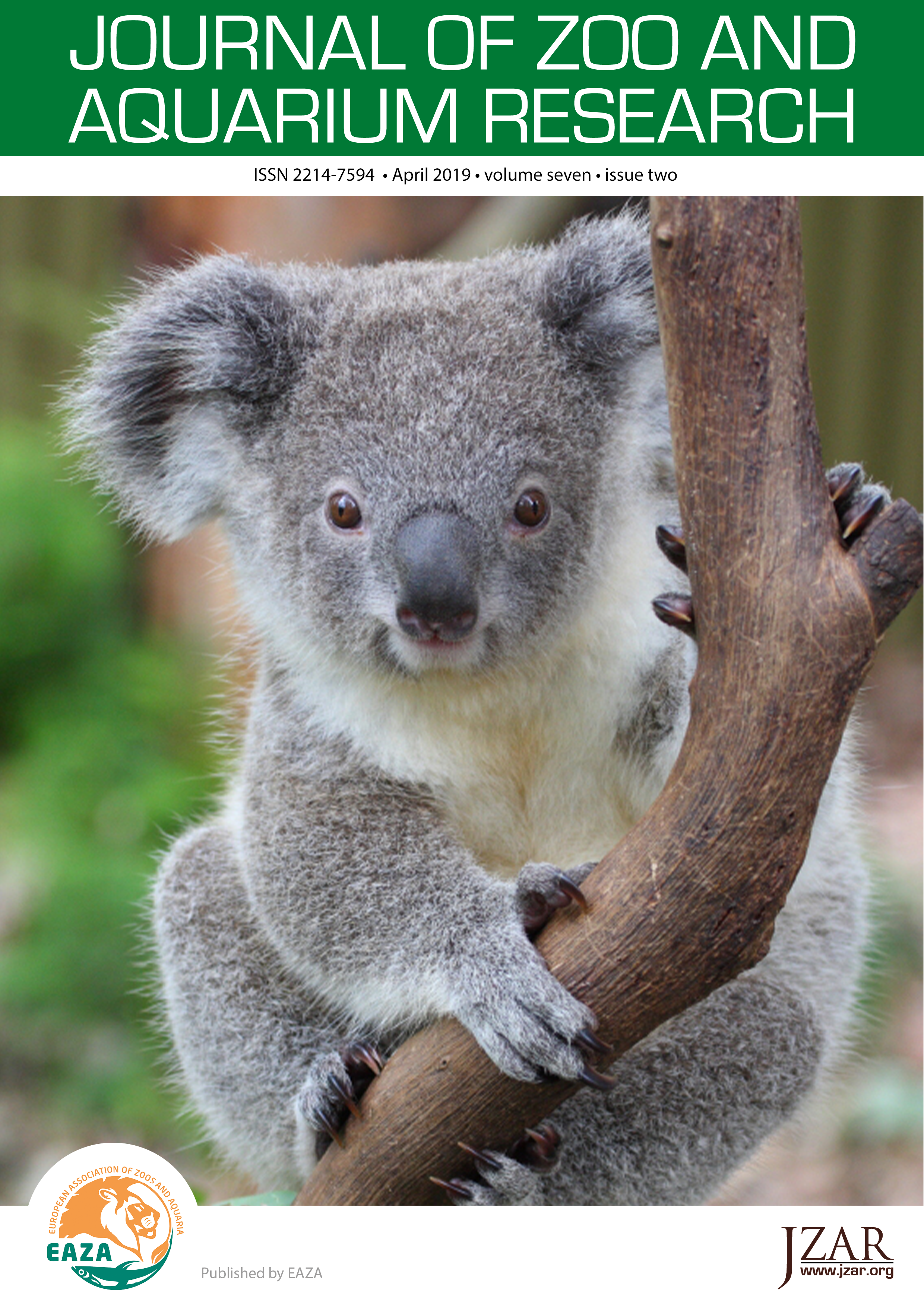 Downloads
How to Cite
Ogura, T., Nakayama, T., Yamabe, K., Shigeno, H., Tani, Y., Yugawa, M., Shibata, E., Miyakawa, E., & Ohata, M. (2019). Koalas (Phascolarctos cinereus) utilise volatile compounds to choose preferred Eucalyptus leaves. Journal of Zoo and Aquarium Research, 7(2), 94–101. https://doi.org/10.19227/jzar.v7i2.360
License
JZAR fulfils the DOAJ definition of open access and provides free and open access to the full text of all content without delay under a Creative Commons licence. The copyright holder of JZAR publications grants usage rights to third parties, allowing for immediate free access to the work and permitting any user to read, download, copy, distribute, print, search, or link to the full texts of articles.