Using longitudinal data to evaluate the behavioural impact of a switch to carcass feeding on an Asiatic lion (Panthera leo persica)
Keywords:
behaviour, carcass feeding, evidence based management, lion, welfare
Abstract
Replicating species-specific feeding behaviours in captive carnivores has presented a challenge for zoological collections. Many studies highlight the benefits of a naturalistic feeding programme on the physical health and psychological well-being of individuals, with the provision of carcasses found to increase appetite and active behaviours and reduce stereotypic pacing. Whilst some studies have documented the behavioural impact of a naturalistic dietary change, information is often lacking on the long-term effect of a transition towards a more species appropriate diet. This paper presents results from a long-term study of a female Asiatic lion Panthera leo persica at Chester Zoo. Behavioural data were collected before and shortly after a change in diet regime, from daily pre-processed joints of meat to whole calf carcass followed by fast days. To assess the long-term behavioural impact of this management intervention, data were also collected 12 months after carcass feeds were introduced. The results show a significant reduction in pacing behaviour 12 months after the change in diet. Resting behaviour was also affected by diet change, with a significant increase in resting reported 12 months after a carcass feeding regime was introduced. Additionally, an alteration in feeding behaviour was recorded, with a significant increase in average time spent feeding both shortly after and 12 months after the carcass feed regime was implemented. Here, this paper shows the value of using longitudinal behavioural data as a tool to evaluate the effectiveness of diet changes and demonstrates how this information can facilitate the implementation of evidence-based management decisions.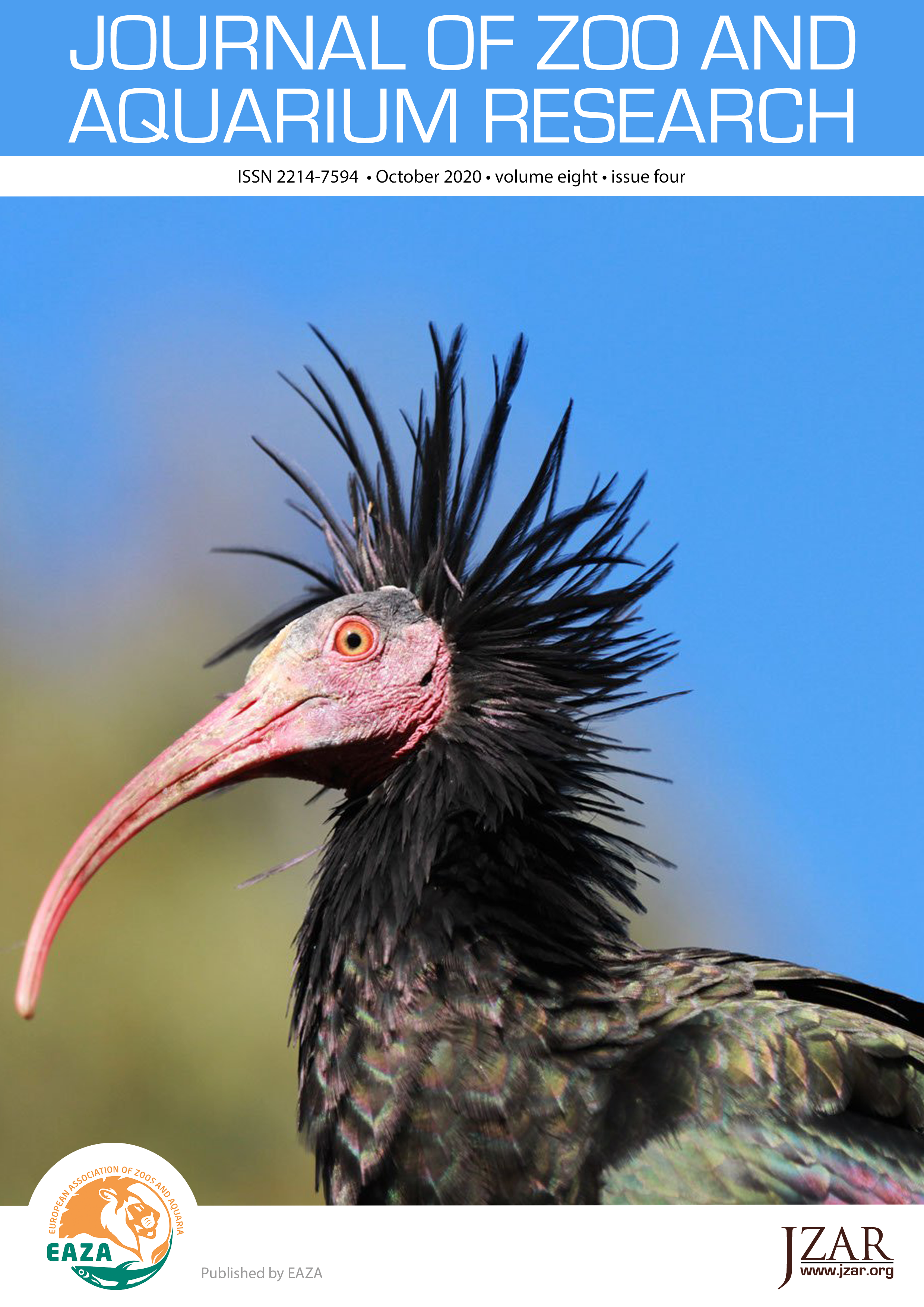 Downloads
How to Cite
Finch, K., Williams, L., & Holmes, L. (2020). Using longitudinal data to evaluate the behavioural impact of a switch to carcass feeding on an Asiatic lion (Panthera leo persica). Journal of Zoo and Aquarium Research, 8(4), 283–287. https://doi.org/10.19227/jzar.v8i4.475
Section
Evidence Based Practice
License
JZAR fulfils the DOAJ definition of open access and provides free and open access to the full text of all content without delay under a Creative Commons licence. The copyright holder of JZAR publications grants usage rights to third parties, allowing for immediate free access to the work and permitting any user to read, download, copy, distribute, print, search, or link to the full texts of articles.