The effect of different UV and calcium provisioning on health and fitness traits of red-eyed tree frogs (Agalychnis callidryas)
Abstract
In response to global amphibian declines and extinctions, the IUCN has recommended the establishment of ex situ conservation breeding programmes. However, there are a limited number of studies that scientifically assess amphibian husbandry practices, even at a basic level of nutrition and lighting. One component of captive husbandry that is becoming increasingly discussed is the provision of ultraviolet radiation (UVR), which is required for the synthesis of vitamin D3, and subsequent assimilation of calcium and phosphorous from the diet. Here we use two methods of UV provision ('background UV' and 'background UV with UV boost') and two calcium gut loading diets (5% and 10%), to assess the effects on a range of fitness measures of the red-eyed tree frog (Agalychnis callidryas). We find no effects of either UV treatment or calcium diet on growth, body condition, or cutaneous bacterial communities of frogs. Subsequent to the UV boost, frogs experienced a significant increase in fungal load on their skin. Females in the background UV treatment had a higher average number of clutches and eggs, whereas females in the background UV with UV boost had a higher average clutch size. Provision of the UV boost was not demonstrated to provide any real advantages for A. callidryas in terms of growth or breeding success. In addition, there were no benefits of a 10% calcium diet over a 5% calcium diet (in conjunction with regular dusting). Further studies investigating the UV requirements of other amphibian species and ecotypes are required, particularly in conjunction with naturalistic cricket gut-loading diets.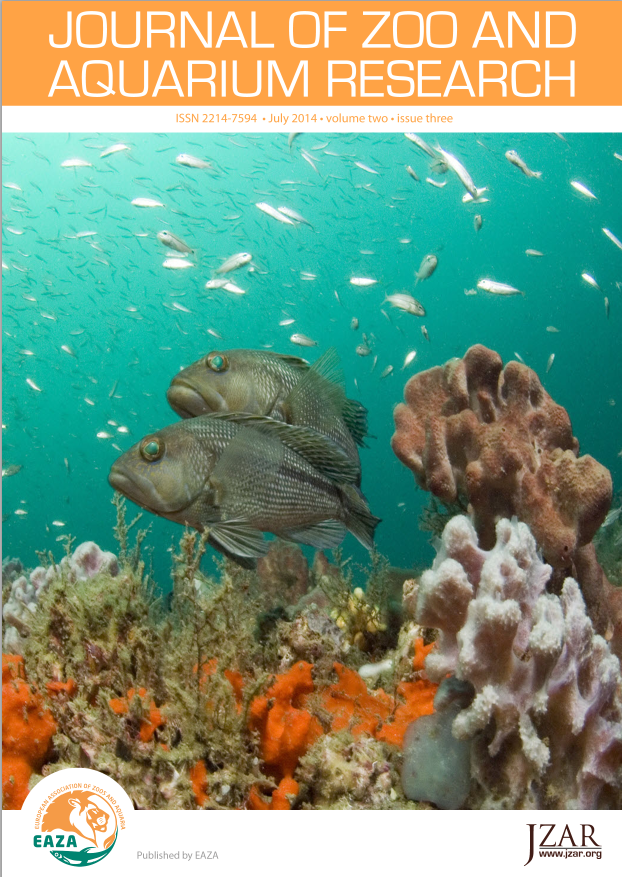 Downloads
How to Cite
Antwis, R. E., Preziosi, R. F., & Fidgett, A. L. (2014). The effect of different UV and calcium provisioning on health and fitness traits of red-eyed tree frogs (Agalychnis callidryas). Journal of Zoo and Aquarium Research, 2(3), 69–76. https://doi.org/10.19227/jzar.v2i3.70
License
JZAR fulfils the DOAJ definition of open access and provides free and open access to the full text of all content without delay under a Creative Commons licence. The copyright holder of JZAR publications grants usage rights to third parties, allowing for immediate free access to the work and permitting any user to read, download, copy, distribute, print, search, or link to the full texts of articles.