Effects of assembly and operation of an amusement ride on the behaviour of a pair of captive Amur tigers (Panthera tigris altaica)
Keywords:
Zoo animal welfare, novel attractions, construction
Abstract
The effects of construction, noise, and visitors on behavioural and physiological responses in zoo animals have become increasingly well documented. However, scientific data are lacking on the impact of amusement rides on the welfare of captive animals.  
Capital developments in 2014 at Tayto Park, Ireland included expansion of their theme park. This project provided an opportunity to investigate the effects of visual and auditory stimuli of an amusement ride on the behaviour of two Amur tigers. Data on the behaviour and spatial location of the tigers in the enclosure, as well as visitor numbers and noise levels, were collected across four phases of the project; pre-assembly, assembly, operation and when the park closed in the off-season. Differences in the tigers' behaviour across phases were analysed with Kruskal-Wallis tests, correlations were tested with Spearman's rank correlation coefficient and enclosure use was calculated using a modified SPI Index.
Time tigers spent off-show (in-house) was proportionately higher during Phase Two and findings were statistically significant for the male (X2(3) = 7.935, p=0.047). SPI values show that the female tiger had a strong bias when utilizing her enclosure in Phase Two with an SPI of 0.87 and spent 87% of her time off-show (in-house). There was no significant difference between phases in the proportion of time tigers spent in observed behaviours. Further, there was no statistical difference in behaviours exhibited by the tigers in Phases with high and low decibel levels and visitor numbers. It was concluded that visual disturbance from the ride was more aversive to the tigers that either noise or visitor levels.
Zoological collections should consider the potential negative impacts of novel visual stimuli and provide free access to off-show retreat, as well as to ensure visual barriers are sufficient to minimize environmental disturbance.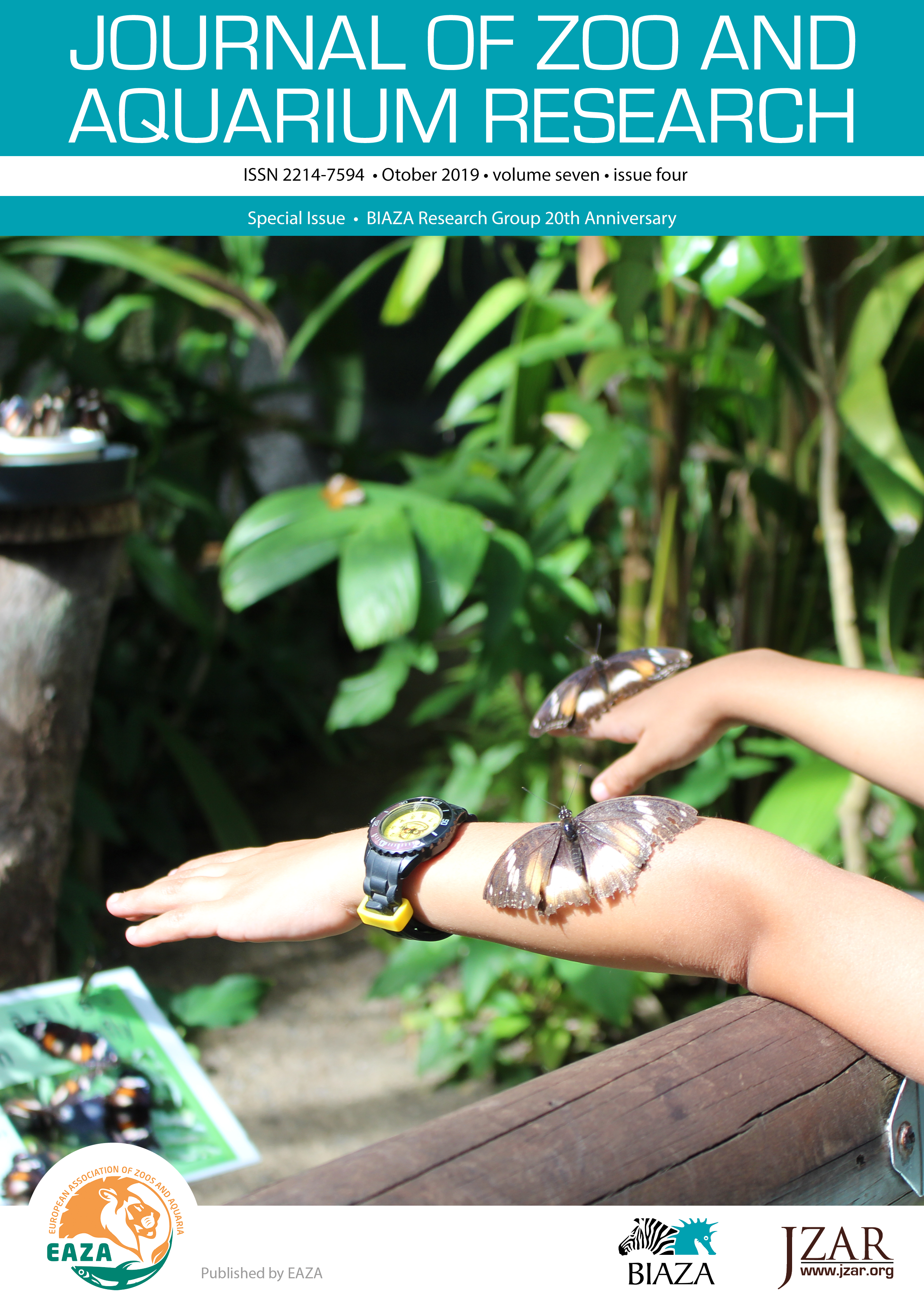 Section
Evidence Based Practice
Authors who publish with this journal agree to the following terms:
Authors retain copyright and grant the journal right of first publication with the work simultaneously licensed under a Creative Commons Attribution License that allows others to share the work with an acknowledgement of the work's authorship and initial publication in this journal.
Authors are able to enter into separate, additional contractual arrangements for the non-exclusive distribution of the journal's published version of the work (e.g., post it to an institutional repository or publish it in a book), with an acknowledgement of its initial publication in this journal.
Authors are permitted and encouraged to post their work online (e.g., in institutional repositories or on their website) prior to and during the submission process, as it can lead to productive exchanges, as well as earlier and greater citation of published work (See The Effect of Open Access).