Preliminary Model of Personality Structure in Captive Red Pandas (Ailurus fulgens)
Keywords:
animal personality, red panda, personality dimensions, temperament
Abstract
Research on animal personality has revealed that it is stable and contextually consistent and has a significant impact on an animal's physiology and psychological wellbeing. Personality, sometimes referred to as behavioral syndromes, personality dimensions, or temperament, impacts health, reproductive success, and survival, and is thus an important factor to consider when assessing the welfare of captive animals. In this study, eight red pandas (Ailurus fulgens) were observed from three institutions in New York City to determine if personality dimensions can be assessed in this species using an ethological approach. Two personality dimensions were described: 1) "Active/Exploratory" and 2) "Maintenance". The "Active/Exploratory" dimension is consistent with several personality dimensions found in other mammalian species, while the "Maintenance" dimension may be related to "Tense" or "Fearful" dimensions found in other species. There is not enough evidence to draw conclusions about age and sex differences related to these personality dimensions, but the "Active/Exploratory" dimension may be inversely correlated with age. Both personality dimensions have ecological and welfare implications. This study can serve as the start of a deeper investigation into personality dimensions in red pandas and the impact they have on the welfare of this species in captivity and possibly the wild.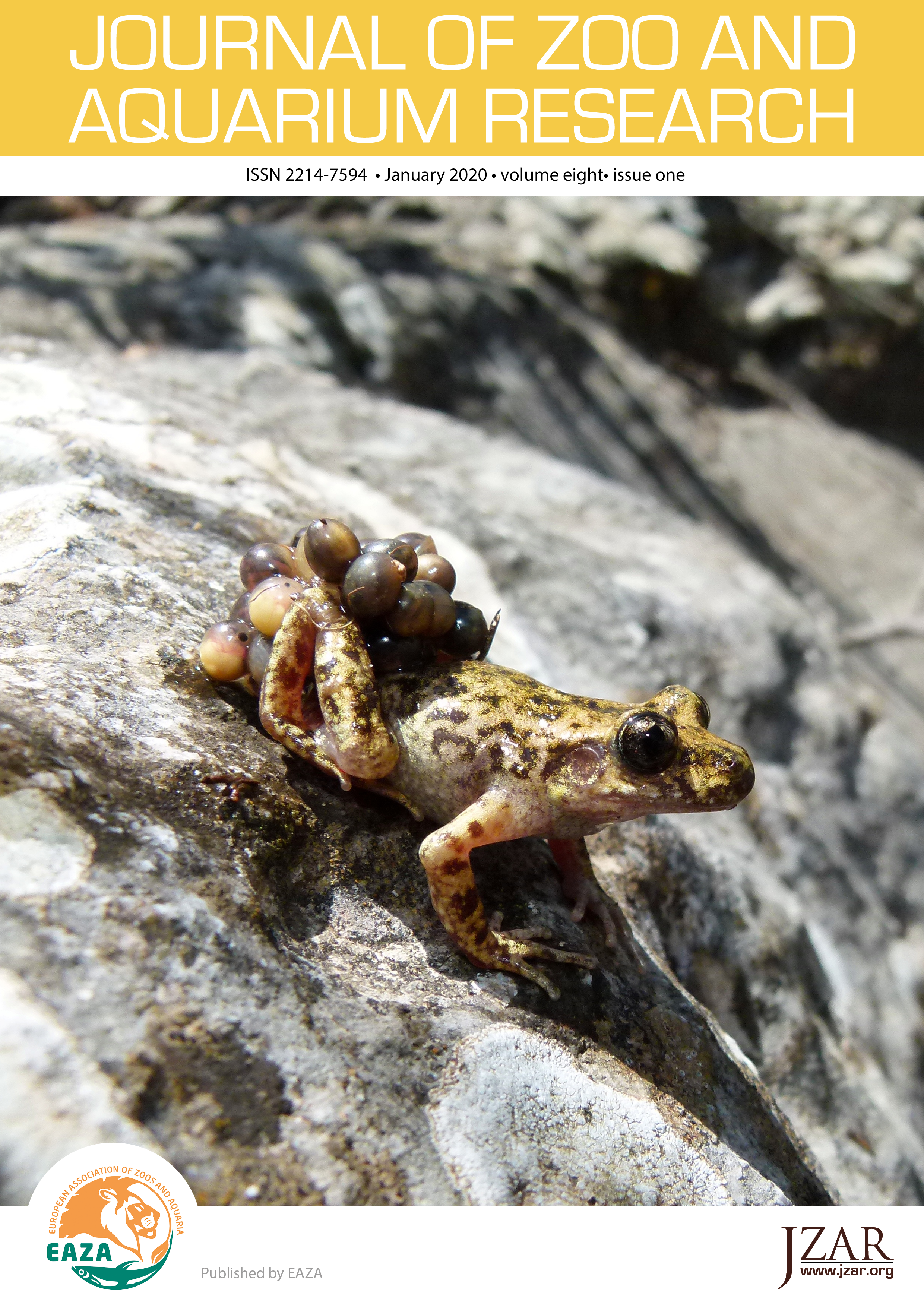 Downloads
How to Cite
Andres-Bray, T., Moller, P., & Powell, D. M. (2020). Preliminary Model of Personality Structure in Captive Red Pandas (Ailurus fulgens). Journal of Zoo and Aquarium Research, 8(1), 29–36. https://doi.org/10.19227/jzar.v8i1.409
License
Authors who publish with this journal agree to the following terms:
Authors retain copyright and grant the journal right of first publication with the work simultaneously licensed under a Creative Commons Attribution License that allows others to share the work with an acknowledgement of the work's authorship and initial publication in this journal.
Authors are able to enter into separate, additional contractual arrangements for the non-exclusive distribution of the journal's published version of the work (e.g., post it to an institutional repository or publish it in a book), with an acknowledgement of its initial publication in this journal.
Authors are permitted and encouraged to post their work online (e.g., in institutional repositories or on their website) prior to and during the submission process, as it can lead to productive exchanges, as well as earlier and greater citation of published work (See The Effect of Open Access).