Saving the mountain bongo (Tragelaphus eurycerus isaaci): Assessment of the genetic status of captive bongos as a source for genetic reinforcement of wild populations.
Andrew Kitchener

National Museums Scotland

Paul O'Donoghue

Emily O'Donoghue

Yoshan Moodley
Abstract
The genetic diversity of  mountain bongos from  the European Endangered Species Programme (EEP) was assessed in this study. There are less than 140 wild individuals of this  rareand critically endangered African antelope, which  has eroded genetic diversity, with only two haplotypes detected with mitochondrial DNA markers in wild populations. Genetic diversity of ten captive individuals was measured by sequencing a portion of the mitochondrial DNA control region and the resulting sequences were compared to published data from this subspecies and used to establish levels of haplotype-sharing between wild and captive populations. Our data show that captive, mountain bongo populations harbour a rare haplotype found in less than 5% of individuals in  some wild populations and absent in others. The findings suggest that captive individuals harbour valuable genetic diversity, making them potentially valuable candidates for a reintroduction programme to help reinforce the gene pools of wild populations. We further propose a two-way approach that also involves introducing wild individuals into captive populations, with the goal of maintaining the genetic health of both in-situ and ex-situ populations.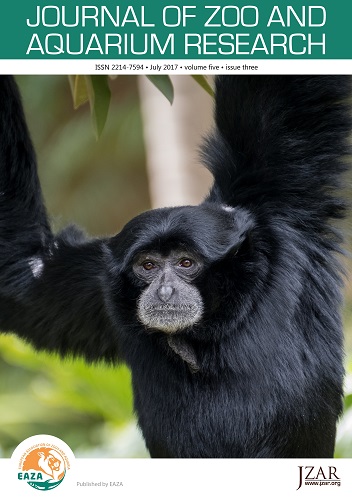 Section
Evidence Based Practice
Authors who publish with this journal agree to the following terms:
Authors retain copyright and grant the journal right of first publication with the work simultaneously licensed under a Creative Commons Attribution License that allows others to share the work with an acknowledgement of the work's authorship and initial publication in this journal.
Authors are able to enter into separate, additional contractual arrangements for the non-exclusive distribution of the journal's published version of the work (e.g., post it to an institutional repository or publish it in a book), with an acknowledgement of its initial publication in this journal.
Authors are permitted and encouraged to post their work online (e.g., in institutional repositories or on their website) prior to and during the submission process, as it can lead to productive exchanges, as well as earlier and greater citation of published work (See The Effect of Open Access).